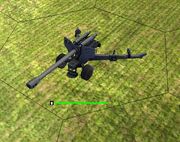 &nbsp
Static Artillery refers to a group of single-use units with similar purpose and statistics. These units offer stationary artillery support for defence at an inexpensive price, and are useful for providing extra firepower to bunkers or tanks.
The U.S. factions use the 155mm M777, which is good against infantry, decent against vehicles, and very vulnerable to close targets.
The European Union uses the FH 105mm and FH 155mm field howitzers, with the FH 105mm being relatively weaker, but cheaper than the M777, and the FH 155mm being identical in statistics.
Russia uses the M-46 130mm Field Gun, which is unique, being greatly devastating to infantry, but slightly weaker than the M777 and FH 155mm against vehicles.
For combat, all Static Artillery is considered an infantry unit for damage and cover purposes.
The Static Artillery units are all towed field artillery pieces. Though the real-life guns can be packed up and towed to a new location or even hauled there by infantry, they are static units and cannot be relocated in-game.
US 155mm M77/EU FH 155mm

| | |
| --- | --- |
| Unit Type | Single-Use Artillery |
| Health | 20 |
| Anti-Infantry Attack | 15 |
| Anti-Vehicle Attack | 14 |
| Anti-Air Attack | 0 |
| Attack Range | 5 |
| Movement Range | 0 |
| Sight Range | 3 |
| Armor | 3 |
| Cost | 15,000 |
FH 105mm

| | |
| --- | --- |
| Unit Type | Single-Use Artillery |
| Health | 20 |
| Anti-Infantry Attack | 14 |
| Anti-Vehicle Attack | 11 |
| Anti-Air Attack | 0 |
| Attack Range | 4 |
| Movement Range | 0 |
| Sight Range | 3 |
| Armor | 3 |
| Cost | 10,000 |
M46 130mm Field Gun

| | |
| --- | --- |
| Unit Type | Single-Use Artillery |
| Health | 20 |
| Anti-Infantry Attack | 17 |
| Anti-Vehicle Attack | 13 |
| Anti-Air Attack | 0 |
| Attack Range | 5 |
| Movement Range | 0 |
| Sight Range | 3 |
| Armor | 3 |
| Cost | 15,000 |