The PzH 2000 is one of two artillery units available to the European Union force in North America. Designed and built in Germany, it is a self-propelled armored howitzer that utilizes an automatically-loaded 155mm cannon.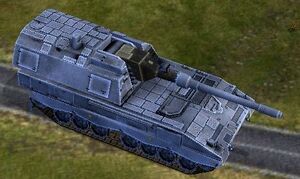 Statistics
Edit
Availability: European Union
Behind the Scenes
Edit
PzH 2000 is an abbreviation of "Panzerhaubitze 2000", which translates to English as "Armored Howitzer 2000".
The PzH 2000 was in use with EU members Germany, Italy, and the Netherlands in 2005.