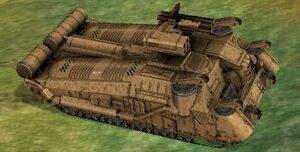 The FCS Jackson is the unique Heavy Armor unit of the California Commonwealth. Possessing a fast movement rate but a short attack range, the Jackson is deadly against enemy infantry and Light Armor.
Statistics
Edit
Unit Type: FCS Unit, Heavy Armor
Availability: California Commonwealth
Movement Range per turn: 6
Write the second section of your page here.
Behind the Scenes
Edit
The FCS Jackson is named for General Thomas J. "Stonewall" Jackson, one of the C.S. Army's most esteemed and capable generals in the First American Civil War.
The FCS Jackson is the only unit in the entire game to use flamethrowers.
The game manual states the tank's formal designation as: "FCS Jackson (EM14NES-MBT)"