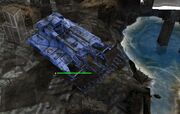 Arlington is a county in the state of Virginia and the region of Eastern Shenandoah, however the game classifies it as a city. Regardless of the direction the region if being attacked from, Arlington is not worth any points. It is immediately north of Alexandria and immediately east and south of Washington. It is separated from Washington by the Potomac River. It is along Interstates 66 and 95. It, along with Washington and Alexandria, suffered extreme damage from the nuclear attack on Washington. It contains one landmark, The Pentagon.
Arlington County is the 2nd smallest county in the continental United States: the smallest in the continental US is the New York City borough of Manhattan, and the smallest in the entire US is Kalawao County, Hawaii.
Ad blocker interference detected!
Wikia is a free-to-use site that makes money from advertising. We have a modified experience for viewers using ad blockers

Wikia is not accessible if you've made further modifications. Remove the custom ad blocker rule(s) and the page will load as expected.